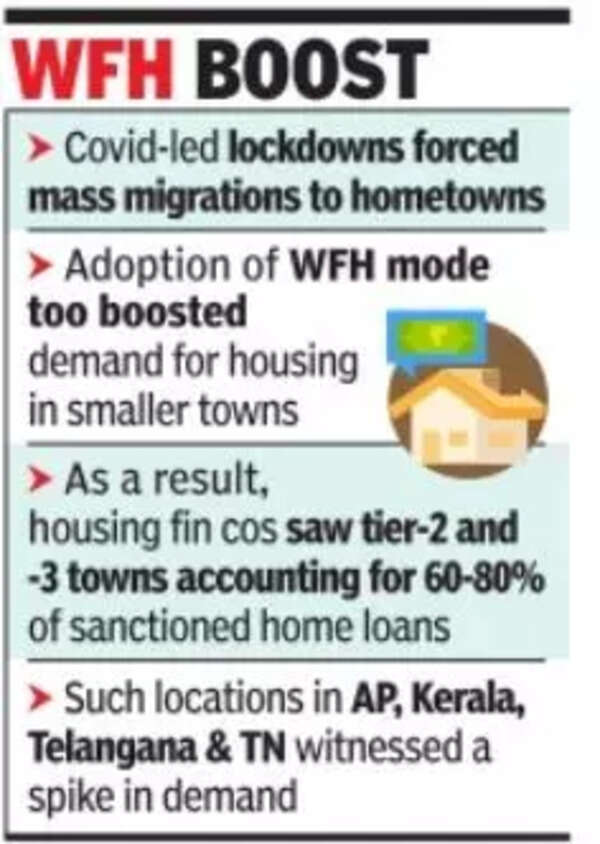 Small towns corner 80% home loans | India News
CHENNAI: There has been an increase in demand for home loans in Tier 2 and -3 cities and towns due to the hybrid working model, expansion of MSMEs and small ancillary businesses, apart from the post-pandemic restoration in these areas. Major housing finance companies saw 60-80% of their sanctioned home loans moving from Tier 2 and -3 cities in the first quarter of the current fiscal year.
Southern states demand is on the top finish. At the same time, real estate industry consultants said the latest rise in fifty fundamental factors (100 basis points = 1 level of action) by the RBI can affect homebuyer sentiment, inflicting a short-term effect on gross sales.
One of the top 5 reasonably priced housing finance companies, Shriram housing finance, disbursed home loans of Rs 500 crore in the first quarter of FY23 in non-metro areas, accounting for 63% of all disbursements. Managing Director and CEO Ravi Subramanian said the number and value of mortgage functions has increased compared to last year in non-metro areas.
Another major player in housing finance, Sundaram Residence Funding, sanctioned home loans amounting to Rs 588 crore in the first quarter of FY23, a considerable increase from Rs 213 crore a year ago. Of this total, more than 60% of home loans came from Tier 2 and -3 areas, compared to around 35% in the corresponding period of the previous monetary year. MD Lakshminarayanan Duraiswamy said, "Affordability has increased in these areas.
Gaurav Mohta, advertising director at Home First Finance Firm, said nearly 80% of all their residential mortgage disbursements came from Tier 2 and -3 cities in the first quarter of this fiscal year.
In the meantime, leading real estate adviser JLL said RBI's 50 basis point pension fee hike is more likely to have a ripple effect in the upcoming festive season. "This could disrupt the development momentum of gross sales in the short term. Nevertheless, it is a warning and not a mirror image of the general health of the residential sector, the prospects for development in the medium and long term remaining intact," said Samantak DasChief Economist and Head of Analysis and REIS, India, JLL.